Bridal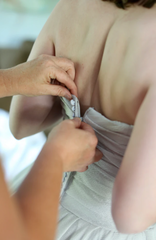 When making a bridal gown you use different interlining than with normal clothing.
Most brides dresses have reinforced bodices. With boning and special couture interlining.
Also available: special strong zips for bridal fashion, thin sewing threads or silk sewing thread, schoulderstrap loops, coverable buttons, looptape closure etc.
A totalassortment tools and haberdasheries for bridal wear...
Bridal fashion is usually made with luxory couture fabrics. Our thinner extra sharp pins, quality tailors scissors and tailors hams etc. fit those like a glove!
New: Embroideery set with 5 fleeces
The embroidery set is exeptionally suited for testing wich type of embroidery fleece you prefer.

The 5 types are: filmoplast, fuse & tear, solufleece, solufix and stitch & tear, all in A3 size