Bridal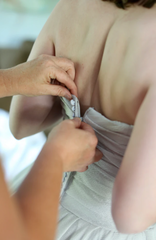 When making a bridal gown you use different interlining than with normal clothing.
Most brides dresses have reinforced bodices. With boning and special couture interlining.
Also available: special strong zips for bridal fashion, thin sewing threads or silk sewing thread, schoulderstrap loops, coverable buttons, looptape closure etc.
A totalassortment tools and haberdasheries for bridal wear...
Bridal fashion is usually made with luxory couture fabrics. Our thinner extra sharp pins, quality tailors scissors and tailors hams etc. fit those like a glove!
Do you like offers and news?
Stay informed, sign up for the newsletter (email)

Read our

BLOG

(dutch)



Follow us on social media