Who are our customers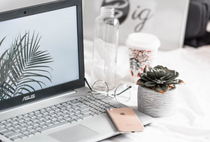 We supply mostly to businesses. Are you running a fashionschool, workshop or are you tailor, clothing reparer or other kind of fashionmaker, everyone is welcome.
Our customers also include schools lik ROC's and we supply consumers as well.
Check out our tier prieces, because if you buy a little more, you pay less...

Like our slogan says: Tailors-Quality for the Fashion Maker with Ambition whether you order for business of personal use.
Welcome by the Beauty-team
Professional Pattern Making Paper 60cm lowered in price!
Roll of 995 grams from € 20,89 for

€ 19,60

excl. VAT
New: Smaller rolls of 245 grams
Of both the 50cm and the 60cm wide pattern drawing paper smaller rolls are now available.
So if you do not use a lot of paper you can still work with our beautiful professional pattern drawing paper!
Minimum amount is 3 rolls - this is because 1 roll does not ship well