for all fabrics with stretch
for all fabrics with stretch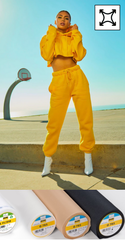 Tape from Vilene, especially for those knitted jersey fabrics and the woven stretch fabrics
Does your fabric have stretch and would you like to keep it stretching? Choose a tape by Vilene that does just that. For example Flexible seamtape can be used on straight and bent seams
Read more about the different tapes by Vilene on the pages
Vilene tapes
of
Tapes by Vilene to iron on or sew for seams, hems and armholes
Are you unsure you are picking the right kind of tape?

Just call Annette on 06-30746623 or send her an email: annettebeautyvof@gmail.com.

If you contact her via Whatsapp, please don't forget to tell her your name.
New: Embroideery set with 5 fleeces
The embroidery set is exeptionally suited for testing wich type of embroidery fleece you prefer.

The 5 types are: filmoplast, fuse & tear, solufleece, solufix and stitch & tear, all in A3 size