Colour chart thread or zipper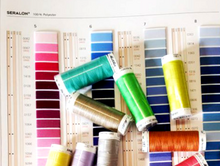 Need a colour chart?
Order your real colour chart with real thread: Amann Group Mettler or Alterfil.
Or download your free colour chart.
Professional Pattern Making Paper 60cm lowered in price!
Roll of 995 grams from € 20,89 for

€ 19,60

excl. VAT
New: Smaller rolls of 245 grams
Of both the 50cm and the 60cm wide pattern drawing paper smaller rolls are now available.
So if you do not use a lot of paper you can still work with our beautiful professional pattern drawing paper!
Minimum amount is 3 rolls - this is because 1 roll does not ship well