Sewing Tools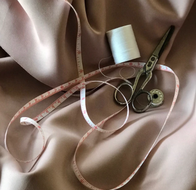 We sell good quality tools specially for tailors and fashion makers with ambition.
From the standard unpicker, to tailors hams, rulers, scissors, marking products like vanishing chalk, tailors chalk and more
Want to know more about measuring? Read our blog:

Measuring like a pro!

(dutch)
Looking for something else? We can order all kinds of materials for you, please call, email or app us at: (annettebeautyvof@gmail.com or 31 6-30746623)
New: Embroideery set with 5 fleeces
The embroidery set is exeptionally suited for testing wich type of embroidery fleece you prefer.

The 5 types are: filmoplast, fuse & tear, solufleece, solufix and stitch & tear, all in A3 size