Sewing Tools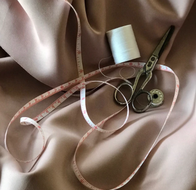 We sell good quality tools specially for tailors and fashion makers with ambition.
From the standard unpicker, to tailors hams, rulers, scissors, marking products like vanishing chalk, tailors chalk and more
Want to know more about measuring? Read our blog:

Measuring like a pro!

(dutch)
Looking for something else? We can order all kinds of materials for you, please call, email or app us at: (annettebeautyvof@gmail.com or 31 6-30746623)
Professional Pattern Making Paper 60cm lowered in price!
Roll of 995 grams from € 20,89 for

€ 19,60

excl. VAT
New: Smaller rolls of 245 grams
Of both the 50cm and the 60cm wide pattern drawing paper smaller rolls are now available.
So if you do not use a lot of paper you can still work with our beautiful professional pattern drawing paper!
Minimum amount is 3 rolls - this is because 1 roll does not ship well