At the sewingmachine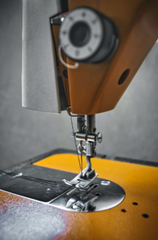 Here you will find all kinds of tools you use with your sewing machine
In this extensive category among other things:
bobbinbox
magnetic ruler for sewing machine
sewing machine oil
pincushions
needle threaders
teflonstrip
threadmagic - threadconditioner
and more...
The saying: Good tools are half the battle is very true
With a cheap seam ripper you can't unpick well, it's blunt and the tip is also blunt
Good quality pins protect your cloth by easily puncturing it in stead of creating holes which the cheap pins do because their points are blunt and not smooth
We can go on and on...
Summer holiday and August Sales
Our summer holiday is from the 1st of august up to the 21st of august.
Check out the special SALE category of august and choose your products with discount!
Enter this discountcode when placing your order
in the shopping cart at discountcode)
augmeetsale22