Sew in interlining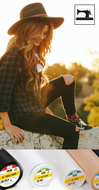 These interlinings don't have adhesive, they are sewn in to garments
The different interlinings in short:
The horsehair canvas and wollen hair canvas are usually applied in coats and jackets. They are handstitched to the fabric.

Bridal interlining can be used in the tops of bridal gowns and cocktaildresses. Mostly in combination with boning.

Vlieseline L11 is used for scaled garments or garmentparts when training to become a seamstress or sewing teacher.
Newst needles: Black Super…
Special offer of tailors products because of the day of the tailor from the 4th of june until the 11th with interlining and tailors chalk