Which iron for interlining?
Applying interlining or interfacing
Flat iron, steam iron or professional steam iron?
When fusing vilene and other interlining it's important to take your time. Check the info sheet (with the product in the shop) how this kind needs to be fused and fuse it for that amount of time,
rushing
gives you a bad result.

So fusing the interfacing needs a lot of time. Do you tend to rush it try to alternate between tasks. For example: cut a pattern pieces from your interlining and fuse it on the fabric. While the just fused piece is cooling down, cut the next piece and so on. You will see, you'll work more slowly and fuse the interfacing better. That helps you later on because you don't have to fuse it again if it comes off.

Applying interfacing with a steam iron that has holes in the entire soleplate it not a good idea. The many holes keep the interlining from fusing to the fabric in those places, they will keep bubbling up...

You could ofcourse move it more a little further every time to fuse all places twice. Or invest in a teflon sole, it lets steam through but the holes are covered.

A different solution is buying a professional stem iron or a trouser press. The professional iron has steam holes only in the point of the sole, and it's heavier than a normal iron, which is great when applying interfacing. With a trouser press you can fuse an entire piece at once.
No space for a trouser press?
Choose a professional steaming iron by Stir Vapor or Bielle, they are moderately sized with a water tank. Heavier than a normal iron and you can still iron the laundry with it.

The advantage of a professional iron is the fact that it doesn't have to cool down when the tank is empty, simply refill the tank, turn it back on and within minutes it's ready to go.
We can order you one of these for you.
More info? Ask Annette: annettebeautyvof@gmail.com or 06-30746623 (tel. of app)
Or check out the shop: Professional pressing and steaming iron
Iron without steam holes (flat iron)
They are almost extinct, a normal flat iron. The cheapest iron out there but great for applying interfacing. You have to apply more pressure because it's a lightweight iron. If you stick to the vilene interlinings you should have no problem applying them with a flat iron. Vilene has made it's interlinings for consumers which means they can be fused without professional equipment.

Choose you iron with care and you may use it many years!

Here you see a picture of the iron soles with wholes in different locations:
The first is the professional steam iron, than the one most consumers buy and at the end the flat iron...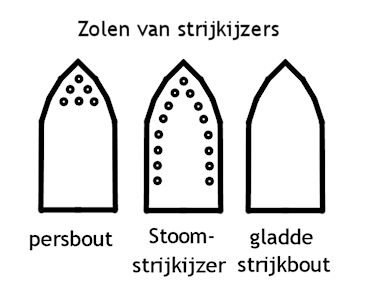 Do you like offers and news?
Stay informed, sign up for the newsletter (email)

Read our

BLOG

(dutch)



Follow us on social media